September 15th, 2018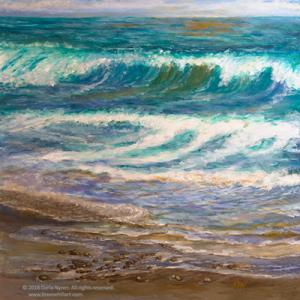 At the beach staring off into the horizon
Quickly lulled into a peaceful, serene place
Calm yet energized and renewed

Crashing waves envelop my senses
A slight breeze and ocean spray awaken my being
Salty, fresh air releases my mind
As my breath syncopates to the rhythm of the surf

Crackling, tumbling, ocean weary rocks
Pull me to follow as the tide claims them once again
Shaping and exposing their splendor

With each ebb and flow of the breaking waves
The beauty and vastness take me away
As the warm sand cradling my feet
Tethers me to mother earth

My soul blessed
By this grand symphony of life


Serenity Symphony, Original oil/acrylic painting by artist Darla Nyren, 30 x 30 x 1.5 canvas, (Commission)
www.breezehillart.com

June 18th, 2016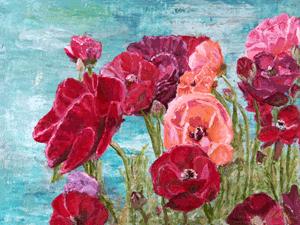 Oh to be a Giant Tecolote Ranunculus waving free in the breeze...

Took a departure and had a marvelous time lost in the moment slapping paint on and scraping paint off my canvas. When finished with the background the Flower Fields at Carlsbad Ranch called to me. About a third of the nearly 50 acres of Giant Tecolote Ranunculus flowers were in bloom when we visited during a sunny but somewhat windy early spring day.

Apparently the name "Tecolote" comes from the owls that nested on the original farm property in South Oceanside. The flowers at the ranch are the careful result of nearly 100 years of cultivation. Originally the ranunculus were a single petal flower in shades of red and yellow. However, if nature provided an odd ball - a full flower or an unusual color - the seed was saved and planted the following year. Today they are full flowers in thirteen colors including picotee or variegated.

I'm thinking "Tecolote" is for "wise like an owl." Instead of cutting down or stamping out the one that stands out, is fuller, more colorful, or just unusual from the rest, it is saved, treasured, planted, nurtured and seen as a thing of beauty. If only we always nurtured one another like this. In time, perhaps we would all become big, beautiful Giant Tecolote Ranunculuses.


Oh, Giant Tecolote Ranunculus, Original acrylic painting, 24 x 18 x 1.5 canvas

Please feel free to contact info@breezehillart.com regarding this or other original pieces.


June 18th, 2016
By the time I start a painting or digital composition, I feel as if I've been compelled to tell a particular story or capture a moment. The thoughts and images have been whirling around in my head begging to come out and play. Whether a beach scene or whimsical fantasy, there's something that caught me and wouldn't let go.

I love being out in nature and especially near the water, whether a lake, a river, ocean, or even a backyard kiddie pool. The sounds, the smells, and ebbing flow rocking me back and forth, soothes my inner child and awakens all my senses at the same time. Compelled to create, I'm transported, joyful, playful, connected and alive. And hopefully I release that spirit into my work.


Current Exhibitions
May 13 - June 4, 2016
Contemporary Realism, Escondido Municipal Gallery / Escondido Arts Partnership
Artwork: Up in the trees, Photography Digital Composite

June 3 - July 4, 2016
2016 Fine Arts Exhibition, San Diego County Fair
Artwork: Rushing in, Acrylic 36x36; Little man, Big waves, Acrylic 48x36; Up, Acrylic 48x36 (Received honorable mention)
​
June 10 - July 2, 2016
Abstracts & Surrealism, Escondido Municipal Gallery / Escondido Arts Partnership. Artwork: Come fly with me